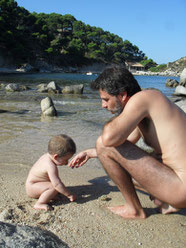 The adult who plays rediscovers a natural language as mammal that is. The simple and creative language of the children rediscovers. The adult who learns this language, is mother or is father able to communicate deeply with his children. Parents and children speaking the same language, the one of the game.
To play acts an evolutionary as, we played of children to develop to us physical, emotional, mentally and relationally. And also it is possible to play of adults for the same aim. To play evokes the joy. And the joy along with their prime sister, the curiosity, is the energies necessary to open us to the learning of a natural, amiable and fluid form.


I ask myself, how long to the week it is dedicated in the educative centers to stimulate the joy to facilitate the learning of the children? ¦.

When the father plays with his son, enters connection with him, he enters its world and from they pass things there¦ father and son they learn together and they fortify its bond. Playing together without competing, creating, imagining, without trying to arrive at no side, playing and flowing, father and son they learn to love itself.