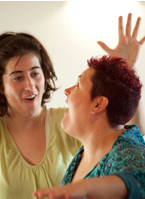 Many styles of risoterapia exist, or shelp with other words, the risoterapia term at present maintains to different interpretations and practices that differ to each other.

The risoterapia that I teach my alumnos/as concentrates in living a process. This process consists of initiating a movement towards the deconstruction of the caracteriales characters who we have been creating to get to be the adults who we are. And we do it playing as children, returning to that stage where ©ramos still free to express to us without fear in the opinion of the other.
The risoterapia that I practice and teach is a proposal to encounter again to us with our essence. And for it, there is no better way than to return to play, to return to the boy that we were, to recover the expressive freshness of the childhood. To play, with conscience, can become the home of a deep process of transformation, the home of a spiritual way.

I have been years seeing groups of adults playing in the risoterapia sessions. And before the humanity that the mass media show to us, I have had and I have the privilege to be witness every week of a humanity able to celebrate the life, to cooperate instead of to compete, in creating instead of to destroy. Groups of adults who when laughing frankly and expressing the joy without fear connect themselves to their hearts. Then the human encounter is unit and the difference and the judgment dissipate for a moment. Then a new reality is created.